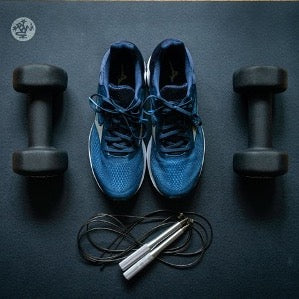 The Best at-Home Workout Equipment
While many believe that you can't achieve an effective and efficient workout from the comfort of your own home, that couldn't be farther from the truth.
In fact, if done properly, you can have the best workout of your life with just your bodyweight! With that said, it my help to have the proper equipment in order to set you up for success. After all, working out from home can become monotonous fast so it's important to optimize your environment.
Below is a detailed list of the best at-home workout equipment for your home gym! No matter the budget, the examples discussed below should suffice. Not only are they all affordable, but they're portable, versatile, and effective. 
The Most Affordable & Effective at-Home Exercise Equipment
Too often, people opt for a complex and detailed fitness regimen compiled of the latest and greatest fitness equipment, the most expensive exercise gear, and the newest trendy workout programs.
More often than not, however, this approach tends to elicit inefficient and ineffective results. Instead, focusing on intention and intensity rather than the fancy programs and equipment will likely result in the most progress. 
Gone are the days of assuming that you need thousands of square feet of exercise space, thousands of dollars worth of exercise equipment, and a monthly membership at a corporate facility that just ends up going to waste. 
By utilizing the following list of workout equipment and executing it in the comfort of your own home, not only do you save time and money, but you'll likely experience better results as long as you utilize them effectively and with the utmost consistency.
Lastly, there's no rule that suggests one fitness protocol is more effective than the other when it comes to delivering results. Instead, opt for the routine that you'll enjoy the most because that's the one you'll likely stick to the longest.
"The best diet is the one you're going to stick to…"
The same goes for your fitness regimen! With that being said, below are the best pieces of exercise equipment for your home gym:
Resistance Bands
Pull-Up Bar
Dumbbells and/or Kettlebells
Jump Rope
Redge Portable Gym Machine
If you're looking for one piece of equipment that provides a versatile, full-body workout, the Redge Portable Gym Machine is all you need.
Curated with durable and tension-heavy resistance bands, and designed to fit with ease in any gym back and book bag, the Redge Portable Gym Machine is the first and last piece of at-home exercise equipment you'll ever need!
You can check out the product here! 
Resistance Bands
Arguably the most necessary and widely used at-home piece of workout equipment, the resistance band is a versatile exercise implement suitable for all experience levels. They can be used in a variety of facets, and they come on several tension levels and sizes.
The best part? They can be easily stored away so that they don't ruin the aesthetic of your beautiful home.
Whatever exercise you are performing, resistance bands can likely be a welcome addition for added difficulty; not to mention their benefits regarding rehabilitation and mobility promotion!
Redge Fit Rebound Ab Roller 
An at-home gym wouldn't be complete without something that can isolate the core. An effective option? The ab roller, of course. 
While any ab roller will suffice, if you're looking for a high-quality, affordable option, the Redge Fit Rebound Ab Roller is a great choice. Designed with slip-free rubber and durable mechanics, it's the only ab roller you'll ever need to purchase.
Pull Up Bar
If a squat rack is in your budget, you can likely find an option with a pull up bar attached. If you're like most, however, eager to remain budget-friendly, a portable pull up bar will suffice!
With little to no assembly required, and all that's needed is a doorway, a portable pull-up bar is a great addition to any home gym! Luckily, Redge Fit has the the product for you!
Check out the Redge Adjustable Pull Up Bar here!
Dumbbells and/or Kettlebells
As we all know, weight-bearing activity is crucial to the health and longevity of our bodies. Not only does it increase strength and build muscle, but it also promotes healthy joint function, increases bone density, and decreases the risk of several health conditions and ailment. 
Opting for a rubber hex set of dumbbells or kettlebells are likely your best option, not only for the price but for the convenience and safety of at-home use. Having either (or both) in your arsenal of workout equipment will provide a versatile workout every single time.
Jump Rope
While many consider jump rope to be a children's activity that takes place on the school playground, it's much much more than that.
In fact, jump rope as an exercise modality has been shown through research to be more effective and efficient at burning calories than your standard cardiovascular workout (running, walking, elliptical, etc.). 
Aside from its effectiveness, jump ropes are also extremely convenient, portable in most all circumstances, and it can be performed both indoors and outdoors, whatever floats your boat!
Yoga Matt 
If you have slippery flooring in your home, or if you simply need a mat to perform yoga on, a yoga mat is a requirement for most all home-gyms! Not only is it effective at providing comfort and a non-slip surface, but it also acts as an absorbent for sweat so that you house doesn't adopt your daily workout scent!
For a high-quality yoga mat, check out Redge Fit's double-sided yoga mat!
While many have their reservations about exercising from home, it provides those that choose to do so with several convenient and effective benefits. With the right equipment, at-home workouts can be the solution to your fitness drought.
To learn more about the best at-home workout equipment, check out Redge Fit's full line of products so that you can begin to take your home workouts to the next level!
Avoiding Common Weight Loss Mistakes
Have you ever wondered why some individuals never seem to lose weight even after following a strict diet and workout routine? After all, losing weight shouldn't be as challenging for an individua...
Read more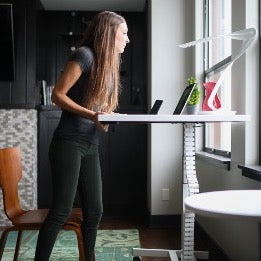 Guide to Maintaining Health & Fitness
While Working from Home In today's digital ecosystem, thanks in large part to technological advances and other uncontrollable worldly circumstances such as COVID-19, working from home as a remo...
Read more